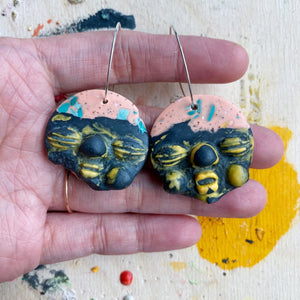 Made from Jesmonite.
Jesmonite creations are slightly heavier than Polymer Clay. 
They may break, crack or chip if thrown, dropped from a height, sat on or if pressure is exerted on a focused point.
Treat it as you would  a ceramic or glass creation. 
This creation is coated with beeswax and is water-repellant but please refrain from soaking it in water.
Each creation is one-of-a-kind and truly yours.
Kinks and imperfections are part of the handmade process and can be seen as a celebration of the Jesmonite medium and the fingerprints of the Artist.
Each purchase is strictly non-refundable and non-exchangeable.
Colour may differ slightly in real-life.
Note:

This creation

cannot 

be converted into Clip-Ons. 
Materials:

Jesmonite

 & 25mm Nickel-free Silver-plated Wire Hoops