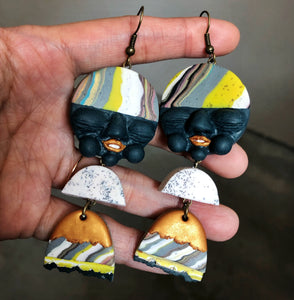 Special Edition Rainbow Peeps.
This creation has a tinge of yellow in the Indigo and can look like deep dark green from certain angles. 
Each creation is one-of-a-kind and truly yours.
Slight imperfections are to be expected as part of the handmade process and can be seen as the fingerprints of the Artist.
Each purchase is strictly non-refundable and non-exchangeable.
Colour may differ slightly in real-life.
Materials: Polymer Clay & Brass Metal Fish Hooks 
Note: This creation cannot be converted into Clip-Ons.